As the 22-23 athletic season has come upon us, we wanted to share some important reminders and safety information for those middle school students and families who plan to attend any athletic event (Middle School or High School) at CHS or SIMS… - Students should be accompanied and monitored by a parent/guardian or assigned adult at all times. Students roaming around the event unaccompanied is not allowed. - Students must have a ride ready to pick them up at the immediate end of the event. Failure to follow this rule could result in a loss of attending future athletic events. We greatly appreciate your attention to this and your help. Together we can continue to make our athletic events a great place to be! Go Tigers!

We will begin with our iReady Diagnostic testing tomorrow and Thursday. Please make sure your student arrives to school on time with their Chromebook charged and a set of headphones for testing. Let's make it a great day!

SIMS Yearbooks are on Sale Now! 📖 Visit
https://bit.ly/SIMSYB23
to pre-order our 2023 yearbook. Our school order number is 1351.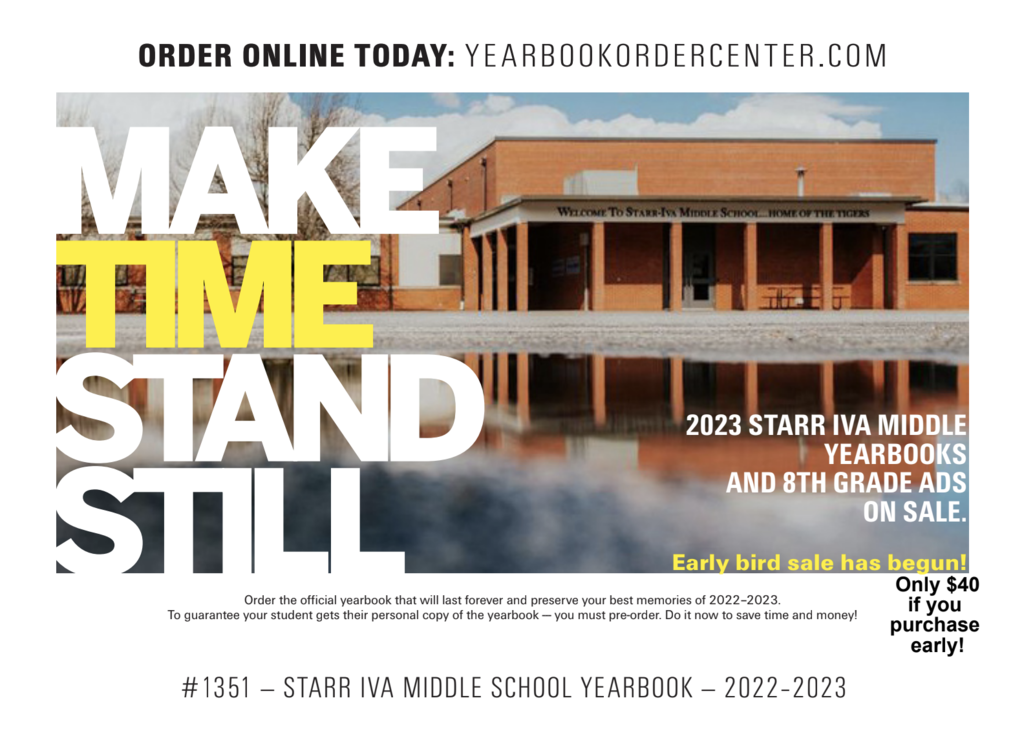 Friendly Reminder: Instrument rental for band and strings students will take place night tomorrow night (Thurs. Aug. 18th) in the SIMS band room from 6pm to 8pm.

Please see the important reminders pictured for the new 2022-2023 school year at SIMS. We look forward to seeing you on Tuesday, August 16th. Go Tigers!

We will host our 7th and 8th Grade Drive-Thru Registration tomorrow (Thurs. August 11th) from 3:00pm to 5:00pm. You may enter through our normal car-rider entrance and a check-in table will guide you where to go next. All fees must be paid in advance or the day of to receive your student's schedule. This event is also open to 6th Graders who did not attend Tiger Camp and still needs to pick up their schedule, if fees are paid. We look forward to seeing many of you tomorrow!

It was great seeing all our incoming 6th graders at Tiger Camp this morning. If you were unable to make it a link to the presentation shared can be accessed by clicking the link below. Also, any student unable to attend this morning can visit our drive-thru registration event on Thurs. August 11th anytime between 3pm and 5pm. To pick up their schedule on this day all fees must be paid in advance or the day of. It was great seeing everyone today!
https://docs.google.com/presentation/d/1RLz9gdh0vYLUEpqQDdvWMsoFApIWkvZMoXGk81ENGiM/edit#slide=id.p

This is a friendly reminder that our 6th Grade Tiger Camp will be tomorrow (Thurs. Aug. 4th) beginning at 9am. The event will be at STARR ELEMENTARY in the gym. All fees must be paid in advance or the day of to receive your student's schedule. If you paid in advance, please bring a printed copy of the fee payment or have access to it on a personal device. Thank you!

Due to unforeseen circumstances beyond our control, the 6th Grade Tiger Camp originally scheduled for Thursday, August 4th from 9am to 11am at Starr-Iva Middle School has been moved to Starr Elementary in the gym. The date and time has not changed. A robocall with full information about the change in the event was sent out earlier. If you have any questions, please let us know, and we appreciate your understanding. Go Tigers!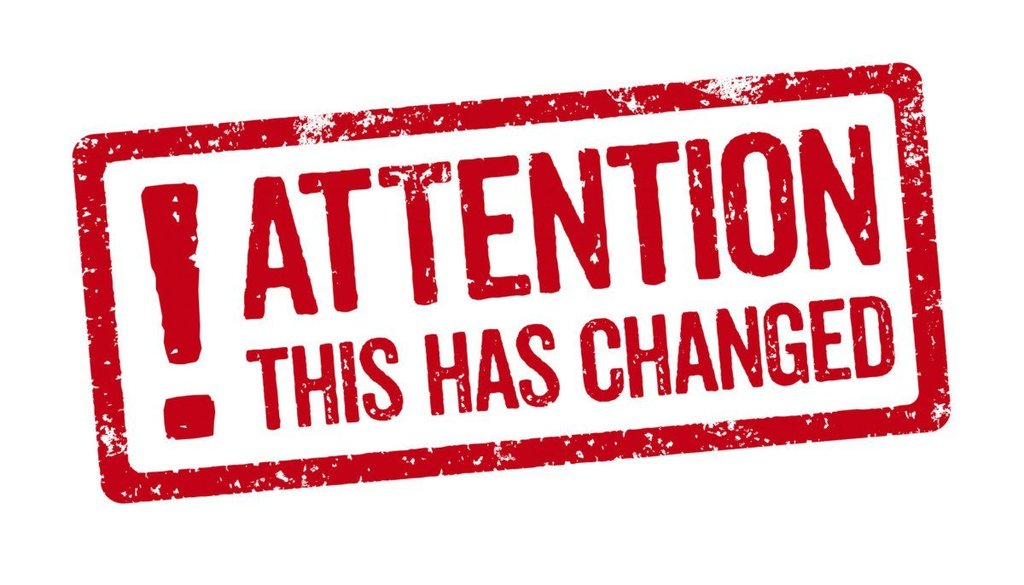 Any families of a rising 6th, 7th, or 8th grader in need of technology access for Registration Gateway, the following dates and times are available at the school. Friday, July 29th - 8:30am to 11:00am and 1:00pm to 3:00pm Monday, August 1st - 8:30am to 11:00am and 1:00pm to 3:00pm Wednesday, August 3rd - 8:30am to 11:00am and 1:00pm to 3:00pm We will have devices available to complete Gateway Registration and are happy to help you in any way. Please let us know if you have any questions.

CRESCENT TIGER VOLLEYBALL play is just a little over one month away! Tryout info and schedules for all three volleyball teams are here. GO TIGERS! **Crescent High Volleyball Practice/Tryouts will begin on August 1 from 9- 11 am at Crescent. **Starr-Iva CTeam Volleyball tryouts will be August 8, 9 from 5-7 pm in the Crescent Gym. Students MUST have a completed physical dated after April 1, 2022 and all other paperwork in order to participate. GO TIGER VOLLEYBALL!
https://drive.google.com/file/d/1XekT-kqN5Bat9_L3urNSYsYf4iu7siZ9/view?usp=drivesdk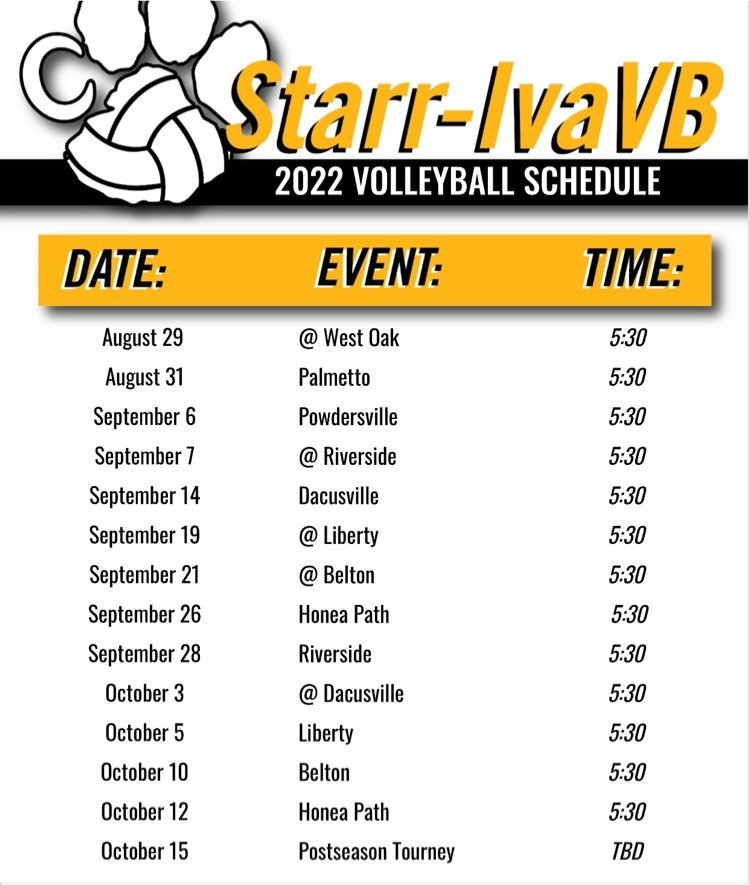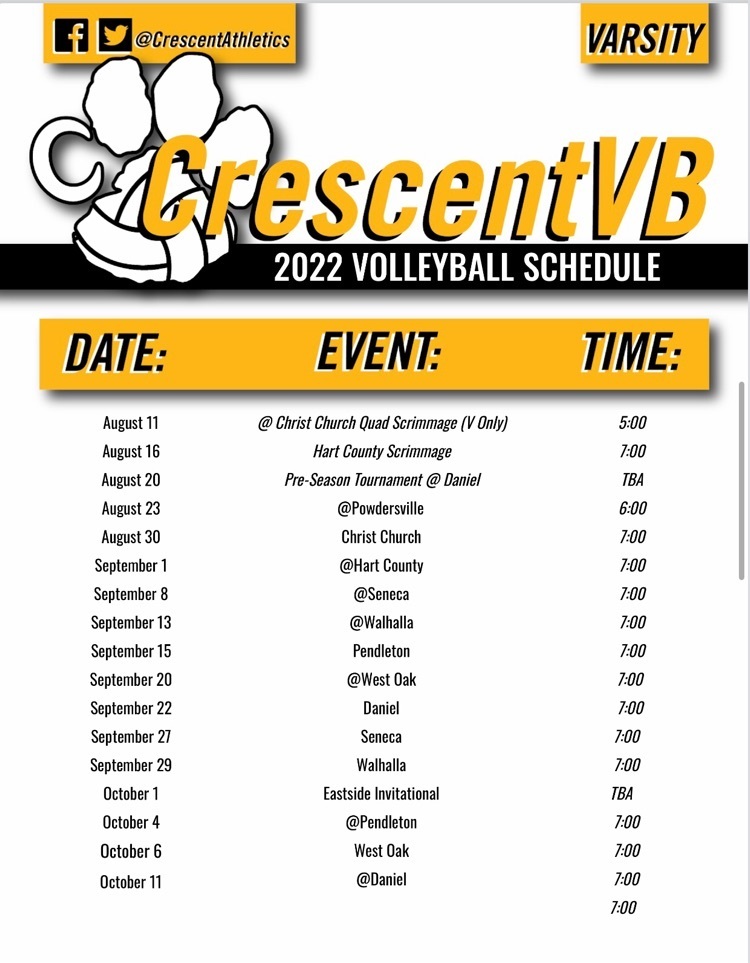 SIMS C-Team Volleyball Tryouts will take place August 8 and 9 from 5-7PM in the Crescent Gym. This is for 7th and 8th graders. 🏐🐯

With CHS's decision to move their graduation ceremony to Friday, we will move forward with conducting our Awards Day Ceremonies for the 4th Nine Weeks to Thursday (May 26th). If you are unable to celebrate with us in person we will record those ceremonies and post online to view later. Times are as follows… 8:30am - 8th Grade 10:30am - 7th Grade 12:15pm - 6th Grade The eLearning day originally scheduled for Thursday (5/26) has been CANCELED and WILL NOT be observed on Friday (5/27) for the middle school. Both days will be a regular school day. Thanks!

Parents and Guardians - We sent home a sheet of paper with a QR Code for our yearly school climate survey a few weeks ago. If you have not had a chance to fill out this survey, please do so ASAP. The survey closes tomorrow (5/24). Thanks.

Please note that at this time this text is informational only and no decisions have been made or plans adjusted… Should Crescent need to move their graduation ceremony to Friday (5/27) instead of Thursday (5/26) for any reason, SIMS will move our Awards Day Ceremonies forward to Thursday and follow our normal times (8:30am for 8th, 10:30am for 7th, and 12:15pm for 6th). Our original fallback date conflicts with ceremonies at the elementary schools. We understand that should this change be needed it might conflict with your prearranged schedules, so we will record our ceremony as well and post online to be viewed at your convenience. Thank you!

Students are coming home with Progress Reports for the 4th Nine Weeks. Please note that there is a clerical error on the report as it says the 3rd Nine Weeks, but the grades in Q4 are for the 4th Nine Weeks and are correct. We apologize for any confusion. Have a great day!

The SIMS Performing Arts Department showed out this evening. Shout out to Mr. Shane Vickery, Ms. Kaitlyn Hamilton, Mr. Matthew Speer, and all the students for putting something great together. A job well done! 👏🏻 🎼 🎶

We hope everyone received our robocall with this information, but we wanted to put it out on social media as well. Today (April 25th) your student is bringing home a sheet of paper with a unique QR code on it from the SC Department of Education. This code will take you to our school report card parent/guardian survey. Please take a few minutes and complete this survey as it is very important to our school. If you need assistance with the QR code or survey, please feel free to contact us at the school. We are happy to help in any way.

For planning and scheduling purposes, SIMS will celebrate our 4th Nine Weeks Awards Day on Friday, May 27th at the following times in the gym... 8th Grade - 8:30am 7th Grade - 10:30am 6th Grade - 12:15pm This date is also the inclement weather graduation date for Crescent High School. Should CHS need to move their ceremony to this date for any reason, we will move our ceremony to Tuesday, May 31st and utilize the same times as above. If they do not need it, we will celebrate our students on May 27th. Go Tigers!

On Friday, Starr-Iva Middle School celebrated raising $5,000 for United Way of Anderson County by covering Assistant Principal - Mrs. Christina McCurley, United Way of Anderson County President - Ms. Carol Burdette, Principal - Mr. Adam Coats, and Anderson 3 Superintendent - Mrs. Kathy Hipp with chocolate syrup. 🍫
https://youtu.be/BIABN1YJFM4