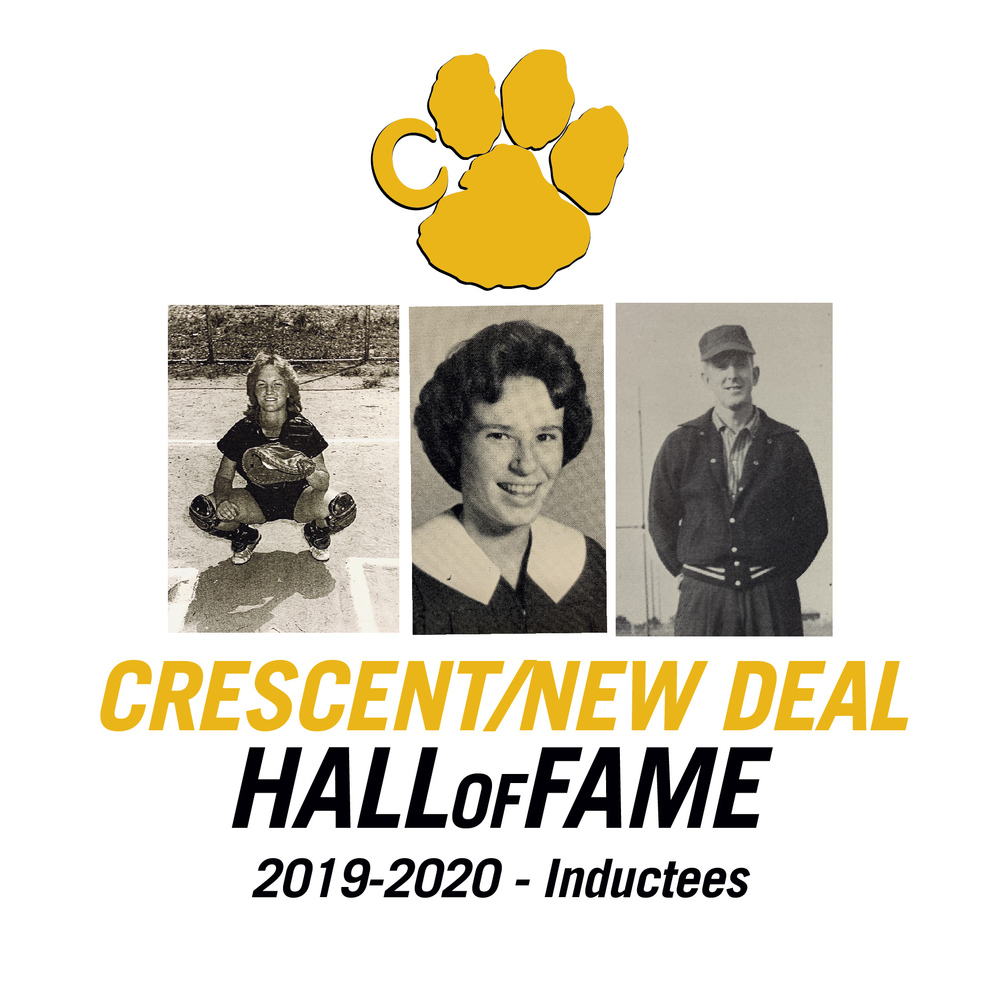 Crescent/New Deal Hall of Fame to Honor 3 New Inductees
A3 Daily
Friday, October 25, 2019
Crescent/New Deal Athletic Hall of Fame Adds Three to the Class of 2019-20
The Crescent High School/New Deal Athletic Hall of Fame is proud to announce the selection of three new members to its 2019-2020 group of inductees. The Class of 2019-20 will be formally inducted at a dinner and ceremony on Monday, February 3, at Crescent High School. Inductees will also be recognized at the Crescent v. Pendleton basketball game on Tuesday, February 4.
The three inductees for 2019-20 Crescent/New Deal Athletic Hall of Fame Class are:
Judy Erwin Bryant – Class of 1963: Judy Erwin Bryant was a 6-year starter for the Crescent Basketball team during her time as a student at Crescent. For her career, she scored 2203 points, averaging 18.5 points per game in her 7th-12th-grade years. She was a starter on five state tournament teams, and those teams went 136-19-3 throughout her six seasons. Over her last three seasons, Bryant averaged over 20 points per game and scored 34 points to lead Crescent to the conference championship over Abbeville.
Off the basketball court, Bryant excelled as well in the classroom and her extracurricular activities. She was awarded the prestigious Crescent Award and received the Citizenship Award her senior year.
Described by one of her former classmates and friends as "…an honorable member of our community who lends her church, family, and friends dedicated support." Bryant has remained a vital part of our community throughout her life. She served the Starr-Iva area for many years volunteering with the Crescent High Booster Club. She also served as a volunteer with the Iva Little League Rec Association for several years.
Kathy Dickerson Hipp – Class of 1984: Kathy Dickerson Hipp has a long list of accomplishments from her high school and college athletic careers. Kathy was a 4-year starter in both basketball and softball at Crescent and was the starting catcher for three State Championship teams and one State Runner-Up softball team. Hipp was the Softball Conference Co-Player of the Year and an All-State Softball player in 1984. She received Sportsmanship Awards in basketball and softball, as well as a Best Team Effort Award for softball. As a senior, she was chosen as the Crescent Female Athlete of the Year.
At Erskine, Hipp was a three-sport athlete in softball and basketball, as well as participating in the first-ever women's soccer team at the school. A scholarship athlete in all three sports at Erskine, she was selected as Erskine's softball MVP in 1988. Beyond athletics, Hipp was an outstanding student at both Crescent and Erskine, excelling in academics and other extracurricular activities.
Kathy Hipp has served Anderson Three for almost all of her professional career. For eighteen years, she was a biology teacher, coach, guidance counselor, and curriculum specialist at Crescent. She worked at the District Office for eleven years as a director and assistant superintendent. In July of 2016, Hipp was named Superintendent of Anderson School District Three and remains in that position today.
Coach Robert B. "Red" Jameson Basketball Coach, Football Coach, AD (1959-1965): Coach Robert "Red" Jameson coached multiple sports during his time as a coach and athletic director at Crescent. His Boys Basketball teams at Crescent won conference championships from 1960-1964 and finished as the State Runner-Up in 1961, 1963, and 1964. His Girls teams were conference champions in 1960 and 1961 and finished as the State Runner-Up in 1960. Throughout his time at Crescent, Coach Jameson coached five student-athletes who are current members of the Crescent/New Deal Athletic Hall of Fame.
Following his time at Crescent, Jameson went on to very successful stints at both Abbeville and Calhoun Falls and retired from coaching in 1992. In 2012, Coach Jameson was inducted into the South Carolina Athletic Coaches Association Hall of Fame.
The 2019-20 Hall of Fame Banquet will be Monday, February 3, at 6:30 pm in the Media Center at Crescent. Persons interested in purchasing tickets should contact Crescent High School at 864-352-6175.